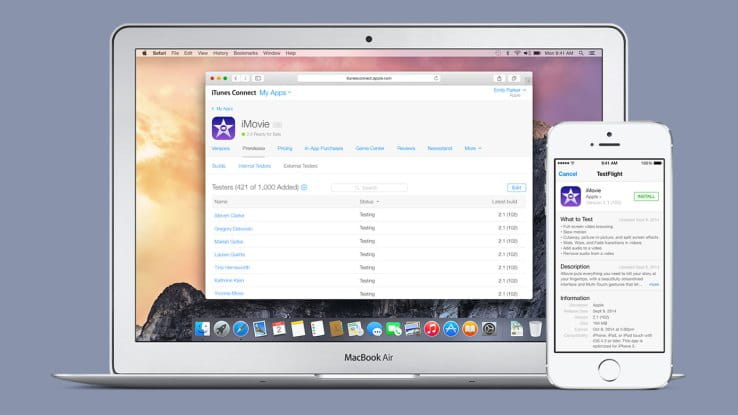 27 Oct

TESTING JUST GOT BETTER FOR IOS DEVELOPERS

Welcome to the Weekend Tech Round-up.

Anyone who's ever beta tested an iOS application knows the process is time-consuming and difficult to manage.

In the beginning

Using a distribution method called "ad hoc," a developer emailed a .ipa file and .mobileprovision file to an tester who dragged the files to iTunes and synced their device with their computer. There was no easy way to update the beta app once it was installed on the device; you have to remove the original app from iTunes then install the newer version, following the above steps all over again. The whole process was awful.

TestFlight improved this process

With TestFlight, the traditional testing process was improved by letting developers update ad hoc builds over the air, with just a tap, and without needing a jailbroken iPhone. But this process was still slow, testers had to send UDID's numbers and for the most part testing was limited to internal personnel. The worst part, you were limited to only 100 devices, one of the biggest complaints by developers. The TestFlight process still made it hard to receive decent feedback from actual users.

How has Apple improved TestFlight?

Using email invitations sent via the iTunes Connect portal, registered developers can now invite up to 1,000 beta testers to try out their app. There's no longer a need to install provisioning profiles on tester devices, and no need for users to manually find and send their devices' UDIDs to participate. The app will also send notifications when a new test version becomes available.

But Apple being Apple, they still want to maintain a level of quality control (which is not a bad thing). For an app to be available to 1,000 external apps must first pass a Beta App Review, the same review process before an app goes live on the App Store.

It's a welcomed change from Apple, allowing a wider base of testers, providing convenience and more room to improve and build great apps based on actual user feedback.

If would be interested in Aware Testing Services, you can view our Testing Solutions Page.

If would be interested in Aware Testing Services, you can view our Testing Solutions Page.