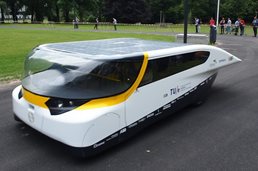 01 Oct

THE FIRST FOUR-SEATER, SOLAR-POWERED VEHICLE

Welcome to Worldwide Wednesday.

Meet Stella, the world's first 4-seater solar powered family car

Solar powered cars have traditionally been built solely for racing but Stella aims to change all that. As well as winning the Michelin Cruiser Class at the 2013 Bridgestone World Solar Challenge, Stella is also the first solar powered car made safe for regular road travel.
The Stella is designed with a large solar panel on the roof.
With a single solar charge, it's able to cover a 500 mile range with speeds of up to 75-mph, (not bad when you compare it to the Tesla Roadster, which can run for 245-300 miles), and it even comes with a boot!
The Eindhoven crew behind the solar-powered car is looking to commercialize it within 5–10 years.
Worldwide Wednesday brings you the latest tech news from the USA and Europe. From exciting startups and product releases, to the must attend events. Aware want to make sure you know what's happening on the other side of the world.