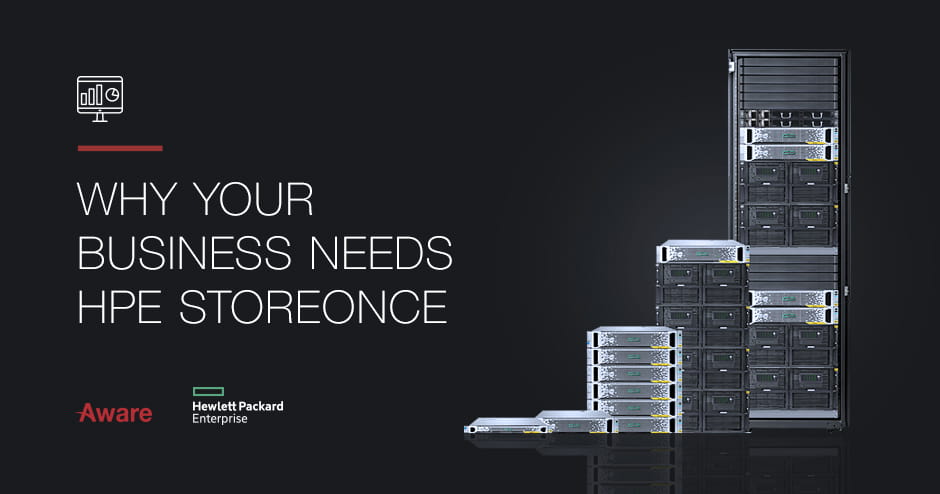 05 Mar

Why Your Business Needs HPE StoreOnce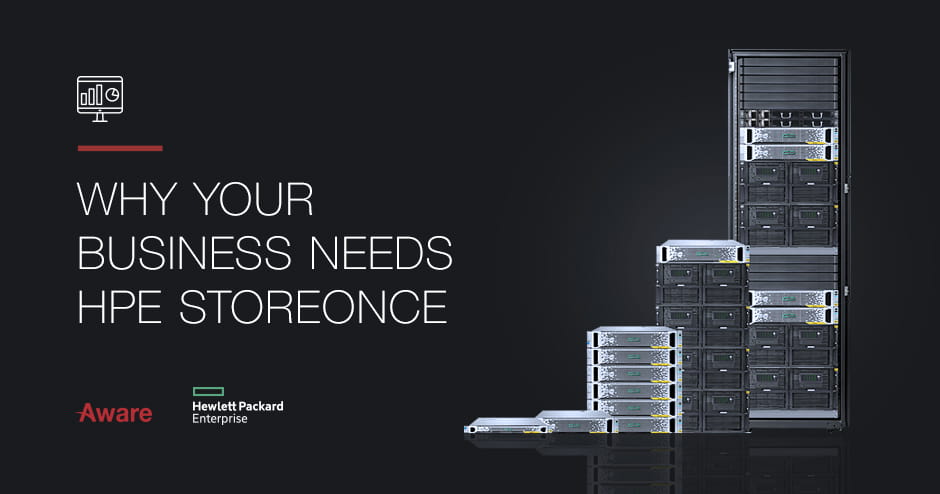 A stalwart of Gartner's Magic Quadrant in both 2014 and 2015 – HPE StoreOnce has been an industry leader in deduplication targeted backup appliances for several years. Today, we will outline why StoreOnce is still a leading light, able to overcome a host of inefficiencies and costs associated with fragmented deduplication solutions.
Cut costs without cutting necessity.
Cost savings are usually at the crux of any digital transformation and HPE StoreOnce is no different, shrinking both costs and time demands through efficient technology.
The costs of data protections are significantly reduced when using a single, unified deduplication architecture which can work at scale. Offering significant storage reduction possibilities, StoreOnce can reduce the amount of backup data you need to store by up-to 95% a (20:1 ratio). This typical deduplication ratio means that more data can be stored in a smaller footprint, leaving you with more physical space, less hardware, and less required storage capacity.
This is particularly beneficial for business with an ever-increasing accumulation of data and long-term back-ups. While such backups can create a lot of business value, it also represents a significant risk and can be costly. For long-term backups, your memory can be expanded beyond its usual capacity by utilizing Cloud Bank Storage which flexibly allows you to maintain low object storage costs on-cloud or on-premise.
By retaining backups for longer, you are covering yourself against data loss and corrupted files, reducing negative business impact while providing cost savings in disk storage, IT resource, physical space, and power requirements. All of this can be achieved without sacrificing backup performance, accuracy or security. The HPE StoreOnce Security Pack provides for data at rest and data in flight encryption which prevents unauthorized access to data on disks that have been stolen or discarded.
In any storage system, it is mission critical that the integrity of the data is stored and maintained for when you need it. There is nothing worse than discovering corrupted backups when you need to restore, with this in mind all StoreOnce systems come with the patented "StoreOnce Integrity Plus". With integrity plus your data is checked at many stages in both back up processes and when recovered – correcting errors if necessary.
And it's all super easy: all of your disaster recovery processes can be automated or managed from a single-pane-of-glass through StoreOnce Catalyst. StoreOnce catalyst enables you to concurrently move data from one site to multiple sites and cascade data around your enterprise. The restore performance is also best in industry, with restore speeds of up-to 128tb/hr, allowing you to get online faster than competing data solutions, minimizing downtime and expense.
Scaling made easy.
HPE StoreOnce works at scale "pay as you grow", protecting small remote offices right through to enterprise data centers with highly scalable dedicated appliances and agile virtual appliances. The scale-out and scale-up architecture allows you grow as your business needs to.
This means you can span from the entry level 5.5TB model all the way through to an enterprise  1728TB HPE StoreOnce 6600 System. Reduce the time spent managing multiple data protections devices by consolidating and automating all your back up processes on onto HPE StoreOnce systems.
Rapid fire, industry-leading backup speeds of up to 184 tb/hr can shorten your backup windows allowing you to meet even the most stringent SLAs. Protect large amounts of data with the inbuilt high performance OR on the enhanced speed of HPE StoreOnce Catalyst. Flexible, federated, deduplication means you can enhance performance at the application source, backup server or at the target HPE StoreOnce.
Easily Integrated off the Bat:
HPE StoreOnce integrates seamlessly with your current back up environment providing flexible integration into Fibre Channel (4 Gb, 8 Gb, 16 Gb) and Ethernet (1 Gb, 10 GbE, iSCSI) networks. HPE StoreOnce systems are easily rack-mounted in standard racks, while the performance leading HPE StoreOnce 6600 is pre-integrated into an HPE 42U rack.
There is no longer the need for IT managers to learn and implement separate management tools to support their monitoring and management frameworks. HPE StoreOnce plugs into both, HPE System Insights and Integrated Lights-out to give users warning and alerts of StoreOnce appliances.
Contact Aware today, to see how StoreOnce solutions can help protect your business.
Written by Sean Allan, Digital Marketing Manager, Aware Group.