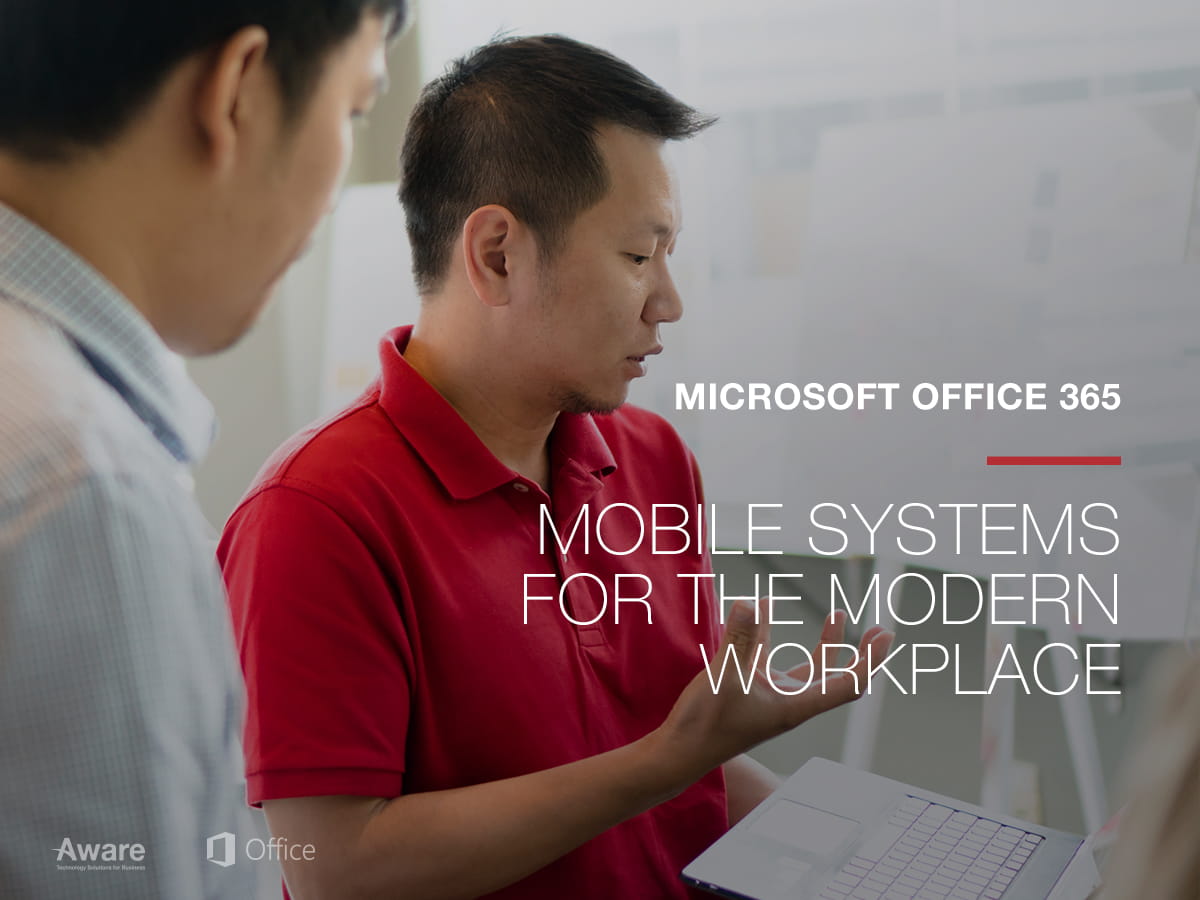 13 Mar

How Microsoft Office 365 will Revolutionise Your Workplace:
How Microsoft Office 365 will Revolutionize Your Workplace:
Microsoft Office 365 is the latest transformation on the old gold standard of workplace suites. Developed to 'reinvent productivity' and match the new employment landscape: Microsoft Office enables you to access your files and collaborate, anywhere, anytime, in real time.
Gone is the rigid, stand-alone Office suite – in comes the hyper flexible, Office 365; a cloud based solution that can be used on 5 devices per user.
The dynamic change on Microsoft Office 365 hinges on six key principles:
(1) Intelligence and Insights: seamless integration with Power BI
(2) Recurring Benefits: Always stay on top with the latest software and updates
(3) Transparency and Security: Protect your data & control users
(4) Collaborate on content: Anywhere, anytime, in real-time
(5) Make meetings matter: Skype for business for your global workforce
(6) Bring your team together: Smarter e-mails, SharePoint and Delve
The model: unlike traditional Office suites, Office 365 is a cloud based, subscription platform that requires a small monthly fee. For this fee, you get the latest Office version. By this we mean every update, forever for the duration of your subscription.
By saving your documents in the cloud, they can be accessed and collaborated on, anywhere in the world, at any time by anyone of your choosing. International collaboration with colleagues abroad and in different time zones has never been easier.
As part of the Office 365 program, not only do you get full versions of the Office suites, you also get 1TB of storage, Sway, Yammer, SharePoint, Skype for business and 50GB of Outlook space per user. None of which is available on any of the traditional Office suite.
Intelligence & Insights
By leveraging Power BI and Delve, employees and companies can understand their organization better while turning their data into insights.
Microsoft Delve is a data visualization and discovery tool that combines social networking and machine learning to help you learn more about your business. Delve can be used to seek out new team members by browsing employee profiles for skills and experience, it can also help other people find you and bring you into projects where you can really add value.
Microsoft Power BI transforms your company's data into rich visuals for you to collect and organize, so you can focus on what matters to you. Power BI leverages your company data to give you a 360-view of your operation, in real-time on one dashboard with full mobile functionality. It's can be fully integrated with your favorite apps; salesforce, Google Analytics, Mail Chimp and more. Any data. Any way. Anywhere.
Microsoft Delve is a data visualization and discovery tool that combines social networking and machine learning to help you learn more about your business. Delve can be used to seek out new team members by browsing employee profiles for skills and experience, it can also help other people find you and bring you into projects where you can really add value.
Collaborate on Content
The modern workplace need to be adaptable and so does your work flow. The millennial hire is always moving, always mobile, and always collaborating. Office 365 fits seamlessly into their culture, a generation raised on Social networks.
Office 365 enables you to work on content with team members all over the globe on whatever device is convenient. By natively saving to the cloud you are changing how you interact with the document, moving from individual to social productivity and to world of interactions and ideas.
Transparency & Security
When moving your organization to cloud services, security compliance is usually an area of concern. Office 365 is a cloud-based service, designed to meet your organizations robust security needs.
Microsoft is a recognized industry leader in cloud security. Using decades of experience developing enterprise solutions, they have a multi-layer security protocol. A defense-in-depth strategy ensures that security in maintained at all times with tactics to detect, prevent, and mitigate security breaches before the happen.
Physical Layer – The Facility
Your data is stored on datacenters that are geographically distributed and designed to protect your data from natural disasters and all unauthorized access. All Office 365 facilities are under restricted access 24 hours a day, with continuous surveillance, biometric scanners, and on premise security officers.
Logical Layer
In the US alone last year some 3 million phones were lost or stolen, and with it sensitive information. To tackle this problem Microsoft Office admin center, allow for all data to be wiped from a central location. Remotely wiping mobile devices is extremely easy and a great way to keep your business data safe. If you run a larger organization, this feature could be a real life saver.
Ransomware and malware is costing companies billions of dollars a year. To help tackle it Office 365 has built-in malware and spam filtering capabilities – helping protect your inbound and outbound emails. The software detects and prevents the introduction of computer viruses and worms into the service systems. It also quarantines infected systems and prevents further damage until remediation steps are taken.
Data Layer
Office 365 is a highly scalable multi-tenant service, that means your data is securely shared across the same hardware resources as other customers. Using Azure Active Directory isolates your data using security boundaries. This secures your data so it cannot be accessed.
Recurring Benefits
Office 365 is a future proof insurance policy against upgrades, with Office 365 you always maintain the latest version and updates. With this you also get access to world-class IT support at your fingertips, whenever and where ever you need it. With Microsoft Office 365 you are making a dedicated choice to staying ahead, and staying secure – inherently BCP compliant and committed to your data's on-going security.
Make Meetings Matter
Focus on collaborating, even when you are far apart, with integrated real-time PowerPoint presentations, co-authoring and desktop sharing. With Skype for Business, up to 250 people can join a meeting, using smartphones, tablets, PCs, phones and meeting room devices.
Groups can create content and brainstorm with OneNote for Surface Hub, a whiteboard application that provides an infinite canvas with a fluid, natural inking experience upon which you can paste and annotate content from other applications.
Bring Your Team Together
The overarching theme of Office 365 is togetherness: Multi-location meeting access, smarter emails, seamless collaboration on content with SharePoint server and One-Drive.
Organizations are going to find technology savings as costs are reduced, agility is increased and people are given the tools to work more efficiently.
Office 365 is the new standard for productive office tools. A small or medium-sized business can no longer work efficiently using the outmoded Office 2007 and Office 2010; these legacy versions lack the speed and flexibility of cloud technology and multi-device access.
If you value the time of your team, give them the tools that perform to the standards of 2016.
If you feel you would like to know more about Microsoft Office you can speak to our team who would be happy to assist you. You can enquire here: Microsoft Solutions