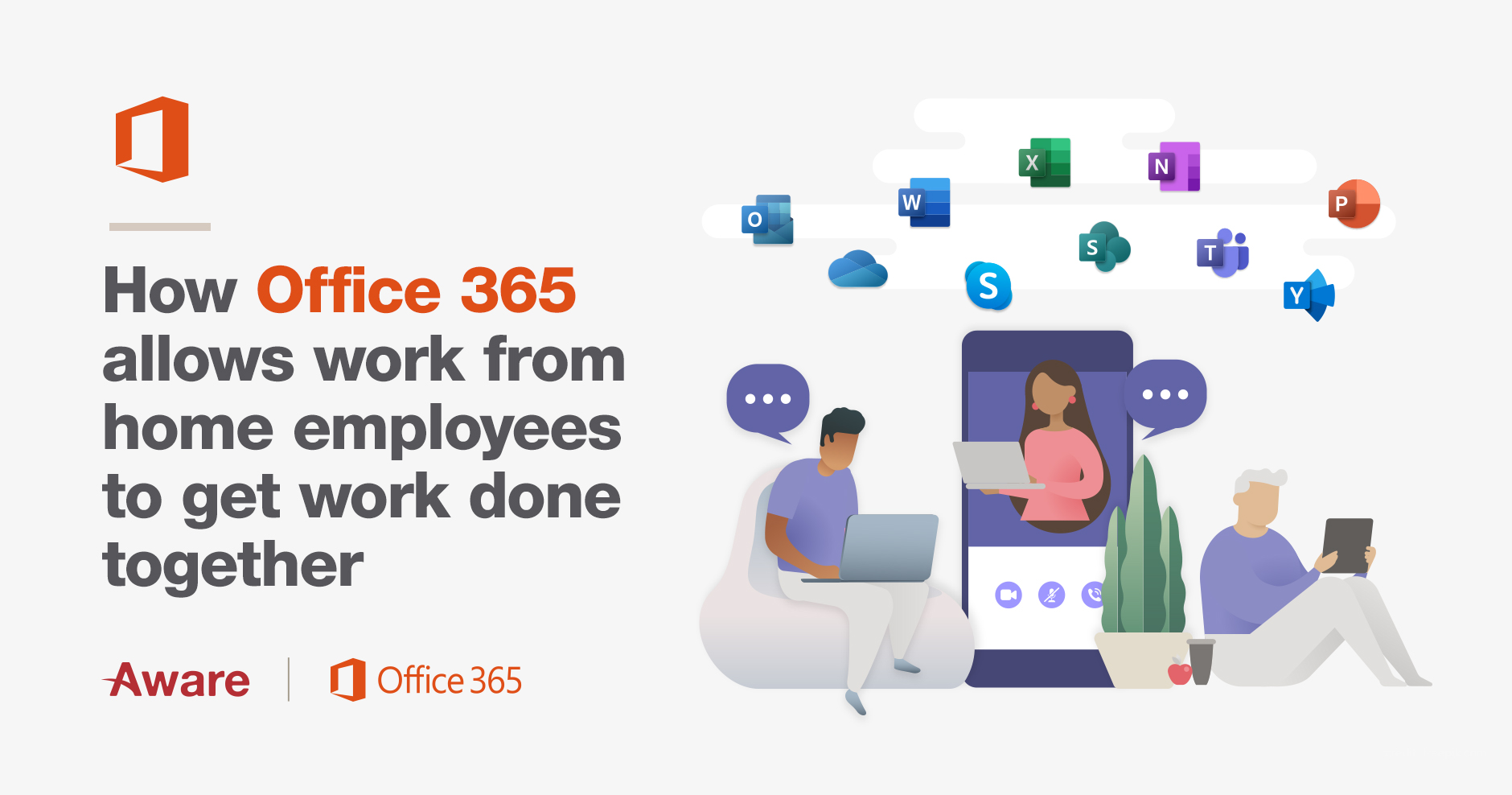 03 Apr

How Office 365 allows work from home employees to get work done together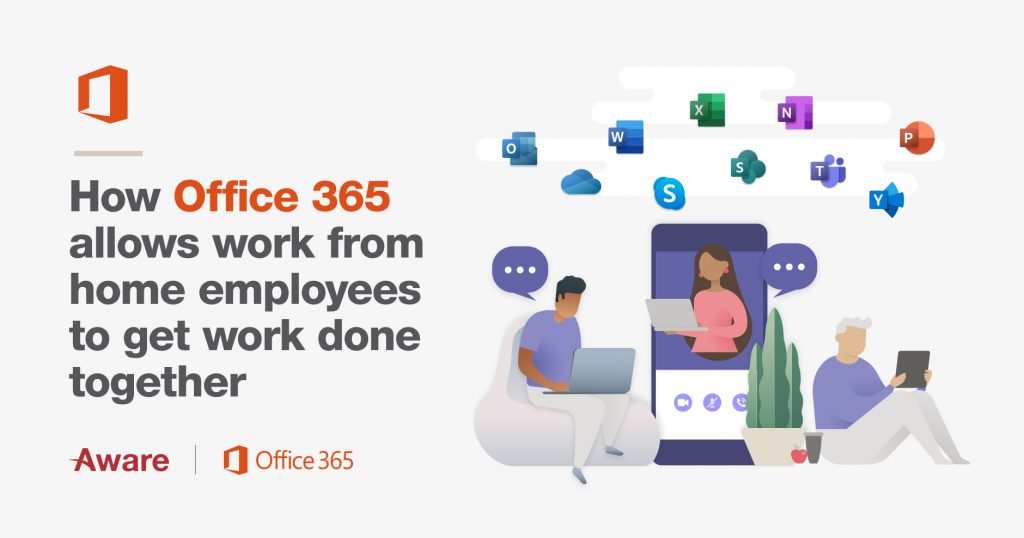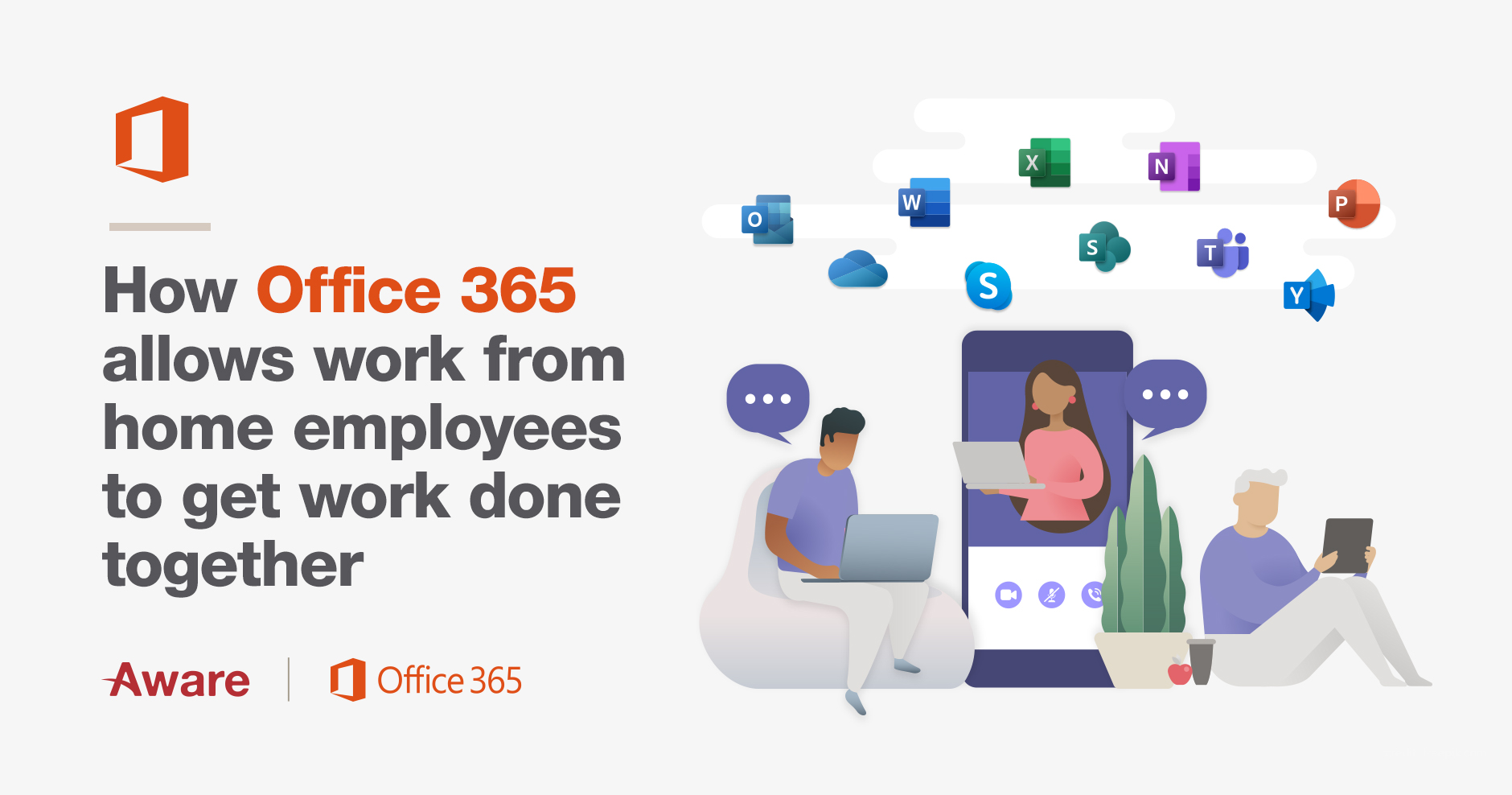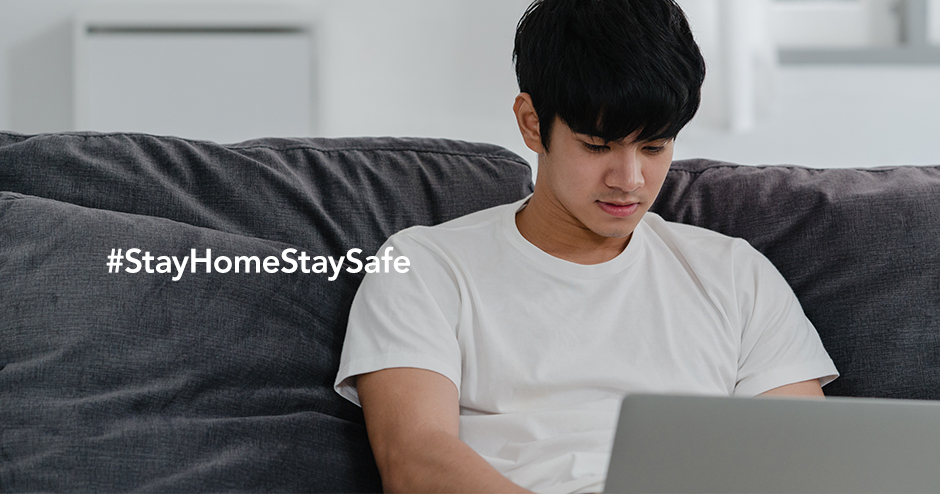 For many companies, working from home may be quite an adjustment in terms of how people work together to continue to get their work done.
Luckily Office 365 is designed to make it easy, quick and simple for work from home employees to share files together, as well as work on files together.
How Office 365 allows work from home employees to share files
Office 365 includes OneDrive as part of the subscription.
OneDrive is a cloud file sharing application that your work from home employees can use to save their files, as well as share them with colleagues.
There are several ways that you can share files with other employees who are working from home by using OneDrive.
Send a OneDrive file to a colleague using Microsoft Outlook
If your staff who are working from home need to share files with each other then they can do that using Microsoft Outlook and Microsoft OneDrive.
To share a file with other people who are working from home you must first make sure that you and your employees always save your work documents to OneDrive.
You can of course save your work files to your computer itself, but that means that if you want to work on that file later on using a different device then you can't.
Only files that you and your employees save in OneDrive can be worked on across all devices where you have OneDrive installed.
Here's how to use Outlook and OneDrive to share files via email.
Open up Microsoft Outlook
Click New Email.
Fill out the email details.
Click Attach File.
Click Browse Web Locations.
Click your OneDrive folder.
Browse to and click the file(s) you want to share.
Click Insert.
Click Send to send the file to your colleague.
You can also to this directly from OneDrive by following the steps below:
Open up your OneDrive folder.
Browse to the file you want to share.
Right-click the file.
Click Share.
Click Outlook.
In the Outlook new email window, type in the email recipients and add any more information.
Click Send to send the shared file as a link inside your email message.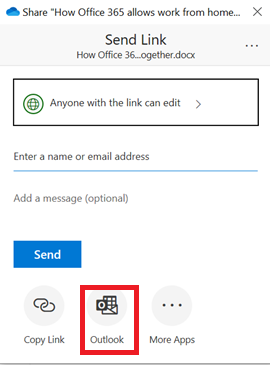 Go to the date that you want to hold the online meeting on.
This is a quick and easy way to share files, but it isn't strictly collaborating because you and your colleagues still have to keep emailing each other the file every time you update it.
This can get confusing rather quickly, especially if you have no formal method of version control.
You also don't get the added benefit of being able to work on the same file at the same time – this will be discussed next.
Work on files together using Office 365 & OneDrive
The beauty of OneDrive is that you can share a file directly with a colleague, or a group of colleagues to work on it together at the same time.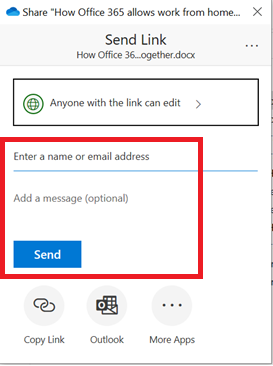 To share a OneDrive file with one or more colleagues, do the following:
Open up your OneDrive folder.
Browse to the file you want to share.
Right-click the file.
Click Share.
Type in the email addresses of the people you want to share the file with.
Type in a message to them to describe the file.
Click Send.
They will receive an email notification, containing a link to the file, they click it and whatever Office 365 program associated with the file will open it.
That's when the real fun begins.
In this example we've shared a Word document using OneDrive to colleagues.  But many of these features work just the same when working with spreadsheets and slideshows too.
With Word open it means that all of your colleagues can have the one file open at the same time and you can all work on it together.
Word will notify you when another user also is accessing the file at the same time as you and you will be able to see their changes and they will be able to see yours.
Tag other users when working together on a document
Another great collaborative feature inside Word allows you to add comments to a document and then tag your colleagues.
Doing this means that you can notify your colleagues to any part of the document you may have questions about or feedback on.

To tag them you open up the document in Word and go to the part where you want to add a comment and highlight the text.
Then click Review > New Comment and add your comment.  When you are typing your comment, you tag someone by typing @ and then you click their username when it appears (or you can type their username after the @ sign and Word will try to find them).
The user who you tagged will get an email notification telling them that you tagged them in the document.
They simply click the link inside the email to open the document in Word at the place where the tag was added.
They can click Reply and add their reply to you (and then you are notified by email and the process repeats itself), or, they can click Resolve if they are happy with the changes.
You can also go to Review > Delete to delete a specific comment or delete all of them from the entire document.
Enable track changes for your documents
This is one of those Office features that most staff hate to use, or never use, yet it's super helpful when used properly.
The tracked changes feature is great for when you are working on documents with multiple colleagues because you can easily see the changes that other colleagues has made and approve or deny them, and they can do the same to you.
To enable track changes inside Word, click Review > Track Changes and then start typing.
You will then start to see red markup lines appear that show all the changes you are currently making to the document.
With the document being shared and collaborated on by many others, if a colleague wants to approve your change then they must enable Track Changes inside Word and, under Changes, click Accept to make the change permanent, or they can click Deny if they don't approve your change.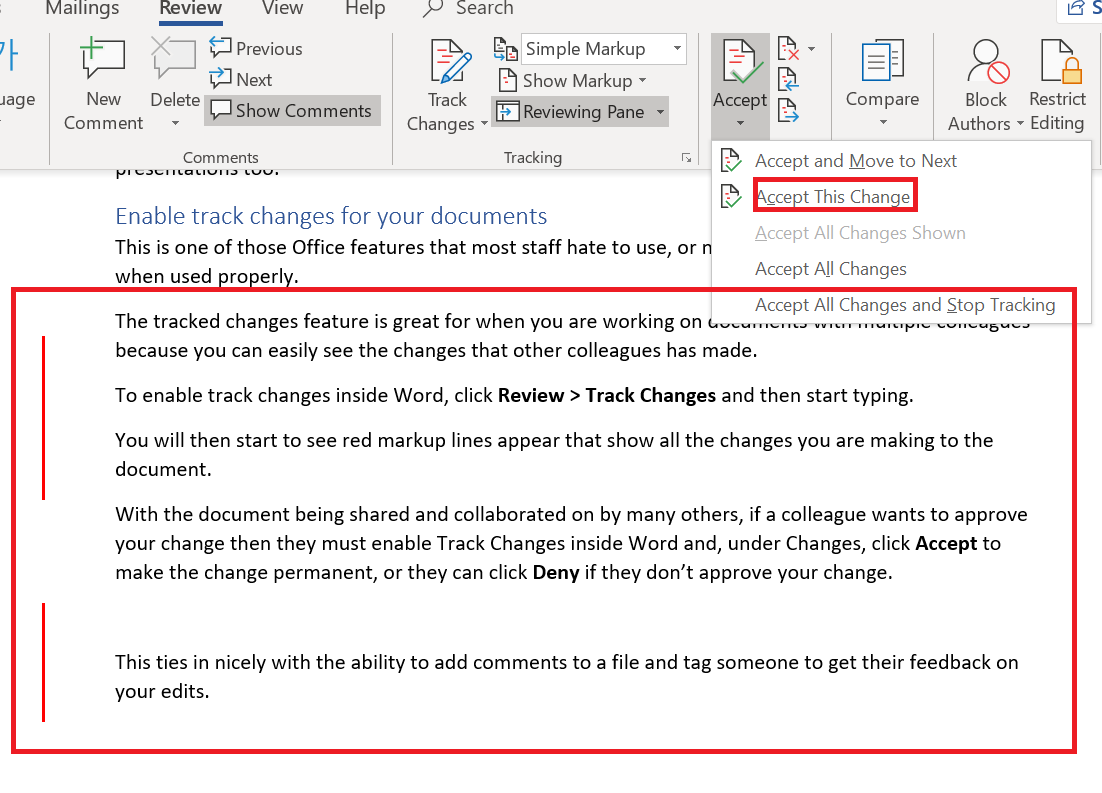 This ties in nicely with the ability to add comments to a file and tag someone to get their feedback on your edits.

This is another great example of how Office 365 has many powerful built in collaboration tools that are great for work from home employees.
Restrict Editing or Block Authors
Word also allows you to restrict editing to a document or to block anyone else being the document author.
You may want to restrict editing if, after working with your colleagues on your latest proposal to a client, you are all happy with it.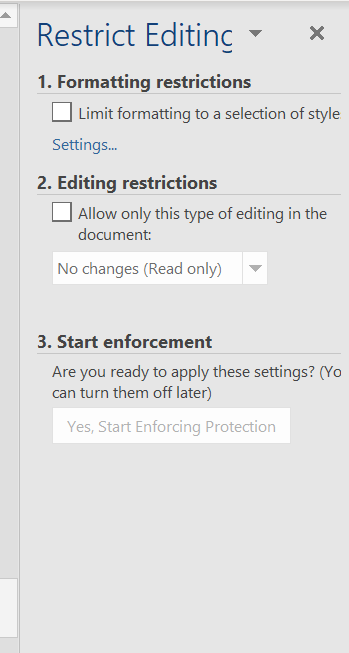 Select whether you want to restrict any formatting changes to the document, or to restrict any editing of the actual content, or both.
Then click 'Yes, Start Enforcing Protection' for it to take effect.
Once done, that means that when someone else tries to edit the document they won't be able to.
You can also use the Block Authors feature of Word (under Review > Block Authors) to block out certain parts of a document from being edited by anyone other than you.

With this in effect you can make your own changes, upload them to OneDrive and then you must turn off the Block Authors feature if you want others to then be able to edit your changes.
To turn off the feature, go to Review and click Block Authors and then click Release All Of My Blocked Areas.
Both Track Changes and Restrict Editing are fantastic work from home collaboration tools for Word.
For Excel, there are also some other specific collaboration tools that can help you and your work from home staff work on spreadsheets together more efficiently.
Password protect your entire workbook when sharing with others
If you are working on a workbook (spreadsheet) with many people and it contains sensitive company information, then protecting that spreadsheet becomes more important now that staff are working from home.
As part of Office 365's collaboration tools, you can choose to password protect an entire Excel spreadsheet, or just specific parts of a sheet.
If you want to password protect an entire spreadsheet follow these steps:
Open up the spreadsheet you want to protect using Excel.
Click Review > Protect.
Click Protect Workbook.
Type in the password to use.
Retype the password to confirm.
Click OK.
Save the workbook.
Once you have done that, the next time you or someone else you share the workbook with opens it they will be asked for the password.
Please keep the password in a safe place.  If you lose it then it cannot be recovered, and your spreadsheet is useless.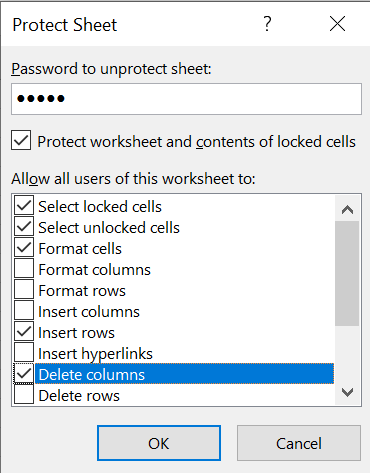 Password protect specific sheets or sections of a workbook when sharing with others
If you are working with many staff and again, the data in the spreadsheet is confidential on certain sheets or certain parts of a sheet then you can restrict access to just that section.
This is a little more complex than just adding a password to the entire workbook, but you get greater flexibility in what you can share and protect with others.
You can protect certain parts of a spreadsheet using the following steps:
Open the spreadsheet in Excel.
Click the specific sheet that you want to protect.
Highlight the section of cells you want to protect and right click.
Click Format Cells.
Click the Protection
Make sure that Locked is checked.
Click OK.
What this does is set those cells to be locked.
That means you can now protect them with a password.
To do that follow these steps:
Inside Excel, click Review.
Click Protect Sheet.
In the dialog box that appears type in a password to unlock the cells.
Type the password again to confirm.
From the list of options, choose what all users can do to this sheet without needing the password.
Click OK.
For example, in step 5, you could select the option to allow all users to select unlocked cells only without needing the password.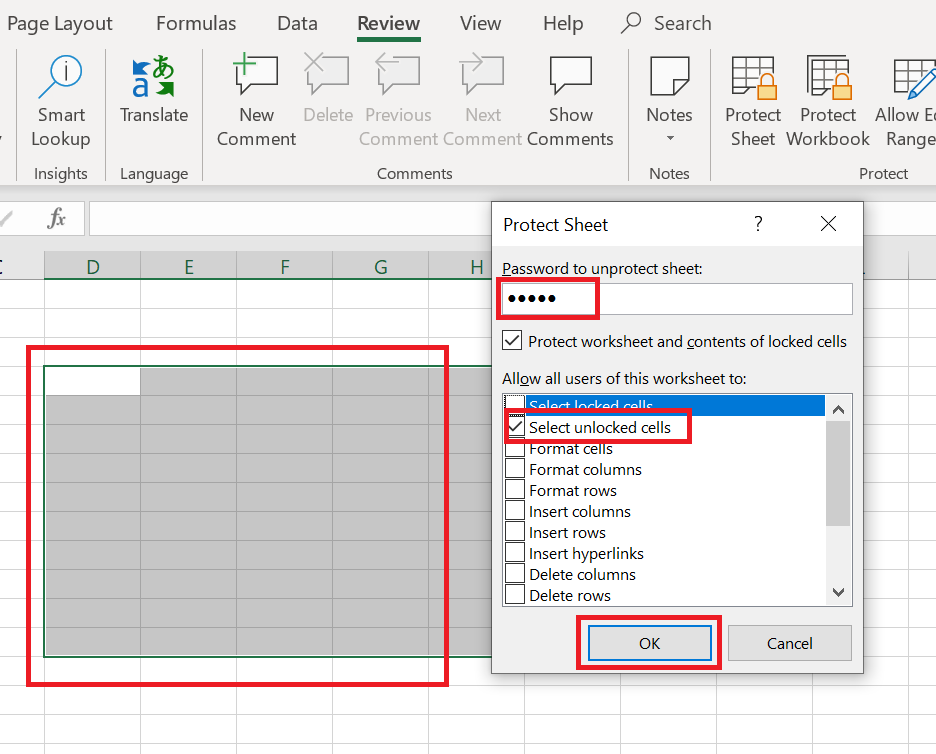 Doing that would mean that if any user tried to then select (click on) the locked cells that you just protected then they will need to unprotect the sheet and enter the password that you set in step 3 above to do so.

To unprotect the sheet, follow these steps:
Inside Excel, click Review.
Click Unprotect Sheet.
Type in the password when asked.
Click OK.
Remember that the password cannot be recovered so make sure that you don't lose it.  If it is lost, then the file is unusable, and all your data is lost.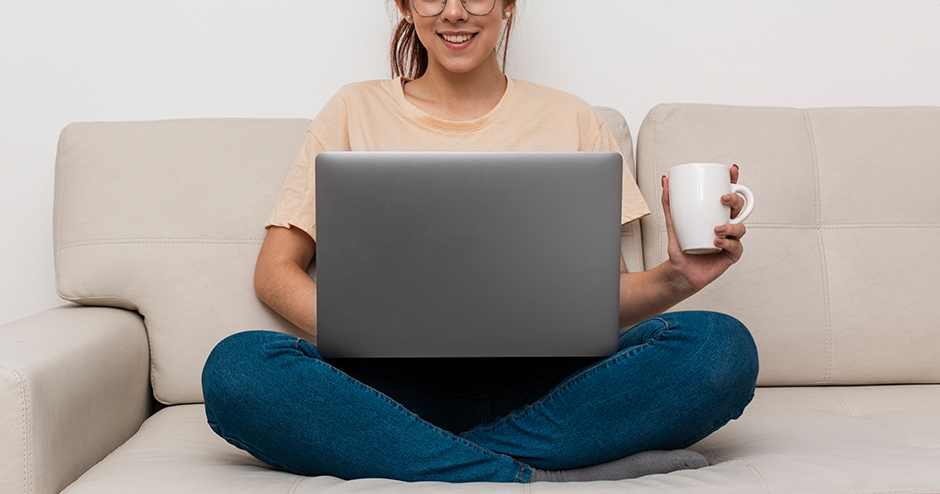 Use Office 365 to start working together from home the smart way
Hopefully this article has shown you a few tips and tricks for work from home collaboratively as a team.
There is no doubt though that Office 365 isn't a great office productivity tool for staff who are currently working from home.
And when you combine it with Microsoft Teams you have a very powerful work productivity and collaboration tool which gives no excuse for why your work from home employees can't continue to work their best at home.
After all, gone are the days when you could only do work at the office.
With the power of the cloud and Office 365 your work from home employees can do work wherever they are on whatever devices they have.
So, if your staff are working from home but you feel that they are missing out on tools that can help them be more productive then make sure your company is using Office 365 and put these tips to good use.