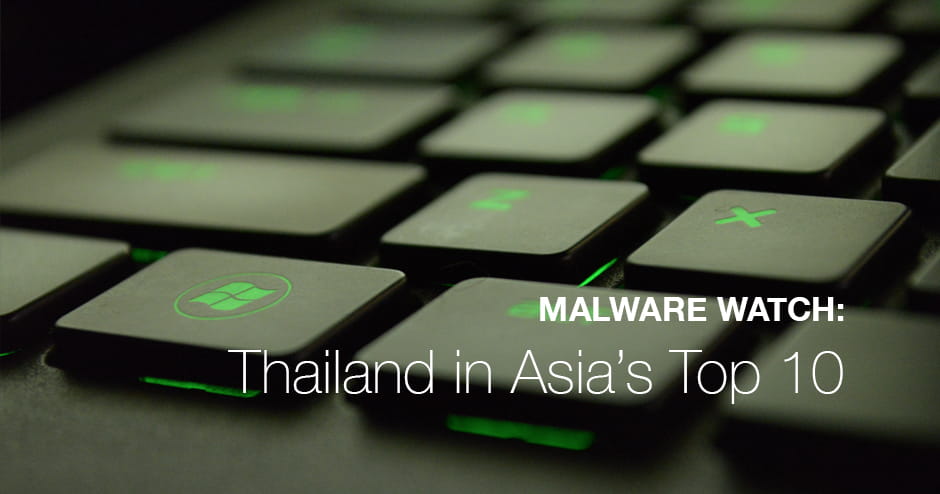 27 Jun

Malware Watch: Thailand in Asia's Top 10
Thailand ranks among the top 10 countries in the Asia Pacific region for malware attacks, due to the prevalence of software piracy and irresponsible internet use, a Microsoft-backed study found.
The study was conducted by The National University of Singapore, who released its findings in a paper titled: "Cybersecurity Risks from Non-Genuine Software". The results found cybercriminals are compromising computers by embedding malware in pirated software and online channels that offer them.
The study, aimed to find the link between pirated software and malware infections in the Asian Pacific region. The study discovered that 100% of the websites that host pirated software download links expose users to security risks, including advertisements with malicious programs. It also found that 92% of new computers that were purchased in the region, were installed with non-genuine software and infected with malware of some kind.
Keshav Dhakad, the Regional Director for Digital Crimes Unit of Microsoft Asia, says cyber risk conditions are comparable to the hotbeds of Bangladesh and Philippines. Thailand ranks among the top 10 countries in Asia-Pacific for the number of malware attacks because of the proliferation of pirated software. While Hong Kong, Japan and Singapore have the lowest encounters of both malware and pirated software.
Software piracy is a recognized global problem with three in five personal computers (PCs) in Asia found to be using non-genuine software in 2016. When using pirated software, users are open to a plethora of cyber threats. The study analyzed 90 new laptops and computers, as well as 165 software CDs. The samples were randomly purchased from vendors that are known to sell pirated software across 8 countries. 61% of CD purchased contained malware, with infected discs having an average of 5 malware strains.
"While cybersecurity defenses continue to evolve, users are slow at adapting, whereas cybercriminals are constantly advancing their attack vectors (malware strains) and delivery mechanisms. Piracy of software is increasingly becoming a key vehicle for cybercriminals to exploit computer vulnerabilities and breach security measures with ease." – Keshav Dhakad.
Researchers examined 203 copies of pirated software downloaded from the internet. Which is the most common means of software acquisition. Each of these samples were thoroughly investigated, using seven different malware search engines: AVG, BitDefender, IKARUS, Kaspersky, McAfee, Norton and Windows Defender. in 100% of cases, the hosting website left users vulnerable to infection – and 24% of all malicious programs that we downloaded could deactivate anti-malware solutions.
If you feel you would like to know more about malware prevention, you can speak to our team who would be happy to assist you. You can simply mail us at info@aware.co.th.
You can also follow our top ten list to tackle Ransomware here.
Claim your free Ransomware protection trial here: http://bit.ly/2yffTYW