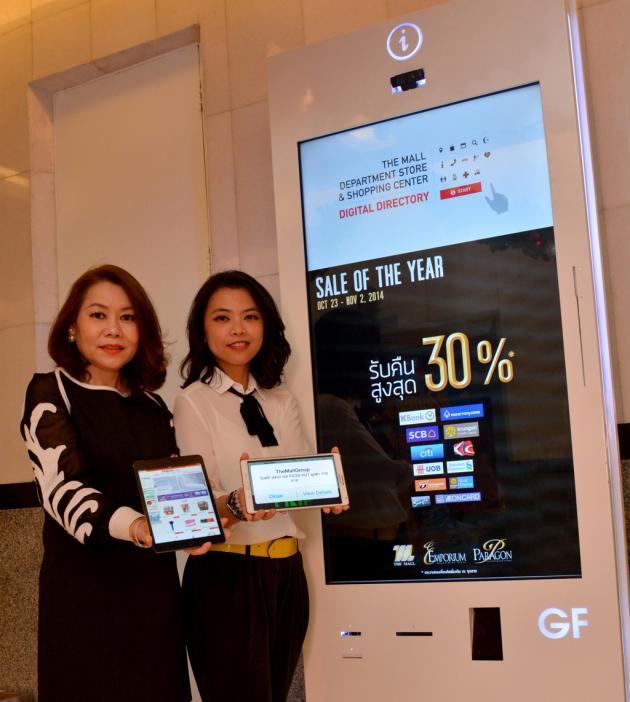 17 Dec

THAILAND'S THE MALL GROUP IS EMBRACING TECHNOLOGY TO WIN OVER CUSTOMERS

As we head into a very busy time of the year, for many retailers we take a look at how technology is changing bricks and motar retail. eCommerce has changed retail forever, some argue it's dead. We disagree. eCommerce hasn't killed retail, it's improved it. The role of digital in retail is more important  than ever, because it allows retailers to create a personal shopping experience. With smart devices and digital media playing an integral role in our everyday lives, local malls are starting to innovate and take advantage of these tools to engage their customers and provide a better retail experience.

Thailand is SEA's largest shopping destinations, with over 15 million visitors coming to shop in 2013. As millions of people flock to the hundreds of malls in Bangkok, the Mall Group, one of Thailand's largest mall operators, who own brands "The Mall" (8 branches), "The Emporium" and Paragon Department Store, recently announced interactive directories and beacon technology to improve the in-store shopping experience.

Beacon technology enables a smart phone to perform actions when in close proximity, In this instance the beacon hotspots installed, interact with the "The Mall Group App" and  engage shoppers by informing them of marketing promotions. Interactive directories shows them directions to shops, while also allowing them to redeem loyalty points at the machines instantly. And while it sounds good in theory, a service like this is not without its challenges.

Several layers of permissions are required to use this service even after downloading the app, customers need to turn on Bluetooth (most people leave bluetooth off because it drains the battery), customers need to accept location services on the app and opt-in to receive in-store notifications.

That's a lot of effort for something like this, so the reward and motivation to download and use the app will have to be significant for the consumer.  In addition to the in-store enhancements, The Mall group also launched MShop, their eCommerce website that allows customers to make online purchases from their malls and have it delivered to their homes or picked up at the location.