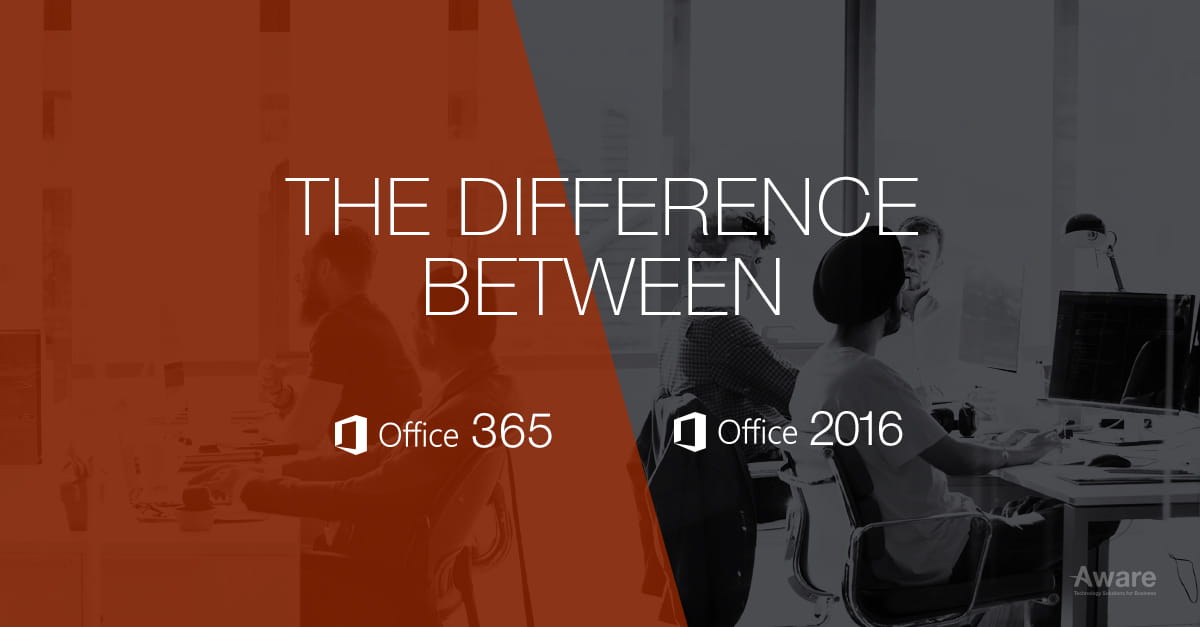 30 Mar

The Difference Between Microsoft Office 365 and Office 2016
What's the Difference Between Microsoft Office 365 and Office 2016?
The Microsoft Office Suite has been a workplace standard for decades, a symbol of employee consistency, collaboration, and efficiency. To match changing employee culture, multi-device collaboration and the modern workplace, Microsoft have developed Microsoft Office 365.
There are now two ways for you to get that staple of employee consistency and efficiency.
The first is the traditional, stand-alone, Office 2016 product, the second is the Office 365 subscription solution.
Both products have their merits and both are also suited to different organizations and people. Trying to understand the differences between the two can be a challenge, but we are here to lay it on easy.
To put it simply, Office 365 is a cloud-based subscription product which allows you access to the standard Office 2016 suite and handful of other programs including, Yammer and SharePoint. Office 2016 is just the stand-alone product with a one-off payment and no expiration, it also only includes the standard office products (no Yammer; no SharePoint, no others).
The critical difference with Office 365 and Standard Office is that it updates new Office versions as they are released – also one user can assign the Office 365 suite to up to 5 devices, giving you flexibility on every platform, to work from where ever you are, on a mobile device or laptop.
Office 2016 is a standalone product, assigned to one device, with no expiration date, but also no upgrades to new versions.
Microsoft Office 365 the Benefits
If you purchase an Office 365 plan, your organization has made a conscious vote for modern flexibility and convenience. Not only does Office 365 include the entire Office 2016 suite, Office 365 plans also include:
• 1TB per user of file storage and sharing
• Sway presentation creator
• 99% uptime guaranteed
• World-class data security
You have the flexibility to add features as you upgrade, like:
• Full desktop versions of Office on up to 5 devices per user
• Outlook with 50GB of inbox space per user
• SharePoint
• Yammer
• Skype for business instant messenger
Microsoft Office 365 is a cloud based subscription that ensures you always have the most up-to-date Office suite from Microsoft. Office 365 keeps you on the cusp of the latest patches, versions, and upgrades with no need to repurchase.
With Office 365, when a new Microsoft Office version is released, your plan will be upgraded to meet the latest development. You can choose to pay a small monthly fee or pay the full year upfront for a discount. You will maintain access to the applications and their updates while the subscription is maintained.
You can install Office desktop applications on up to 5 further devices, which can be a combination of Macs and PCs. If you switch between Mac and PC computers, you can conveniently have Office applications on both.
Extra online storage – securely store all your files in the cloud and access them from anywhere. One of the benefits of Office 365 is that you can gain access to your files and collaborate anywhere in real time. To facilitate this, you get 1 TB of OneDrive storage per user.
By storing your applications in the cloud and by having Office 365 on up to 5 devices you can access and edit your files anywhere, anytime.
The Benefits of Office 2016
Office 2016 is the traditional Microsoft software product, it is sold as a one-time purchase, which means you pay a single up-front cost to get Office applications for your computer. One-time purchases are available for both PCs and Macs.
Office is still a fantastic tool and a legacy application for many who have spent their whole working life on the applications available on Office.
However, when purchasing standard Office, there is no availability for additional features like Yammer and SharePoint, nor is there cloud access with 1 TB of free drive space.
Office 2016, doesn't include automatic upgrade functionality, which means if you plan to upgrade on the next major Microsoft release you will need to buy the full suite again. It should be noted that with Office 2016, you will no longer receive a physical disc, instead you either buy a keycard with a download code or a digital download that is emailed to you.
When buying Office 2016, you must choose between Office 2016 for Mac or PC – if you switch between a PC and a Mac, you will need to buy one for each.
What Office package is right for me?
In selecting what package is right for you, it's important to consider the types of programs and features you feel are necessary. If you need only the basic Office programs: Word, PowerPoint, Excel for example and only upgrade versions every few years, the stand-alone Office 2016 may be best for you.
If you are looking to access programs like SharePoint & Yammer, and like to stay on top of the latest technology then you'll need Office 365.
Accessibility
Office 365 is by far the most flexible option. If you need to access your information on multiple devices there is only one winner. While for Office 2016 can be saved to the cloud, Office 365 gives you the opportunity to install Office on multiple machines – it also means you can access files from any device with an internet connection.
Flexibility
Office 2016: is a stand-alone software, if you need to upgrade you will need purchase and install new licenses for all users.
Office 365: allows users to switch between plans in the admin center at any time. Office 365 is designed to be portable, it doesn't just give you flexibility in your account, but flexibility in location and time, allowing you to access documents and collaborate from anywhere.
Price:
Simple choice, would you rather Office 2016: The stand-alone version is a one-time cost per user, so it will be large expense up front but no monthly rental.
Office 365 subscription plans, mean you don't have to pay anything up front, but there will be a set monthly subscription. If you don't have a lot of resources to pay the large upfront cost this may be the better option even if you don't require all the features.
Written by Sean Allan, Digital Marketing Manager, https://www.aware.co.th