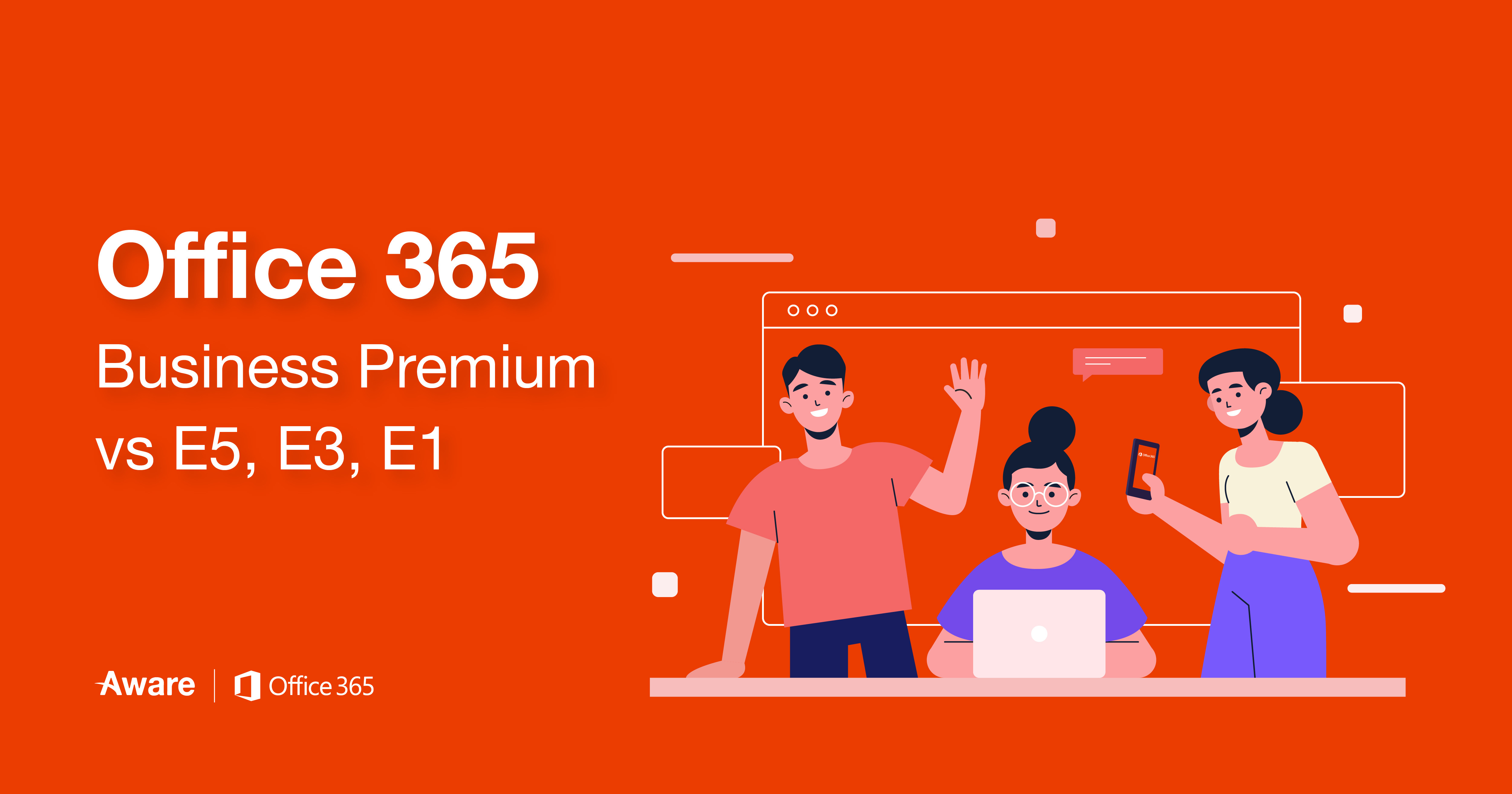 18 Jun

Office 365 Business Premium vs E5, E3, E1 & Pro Plus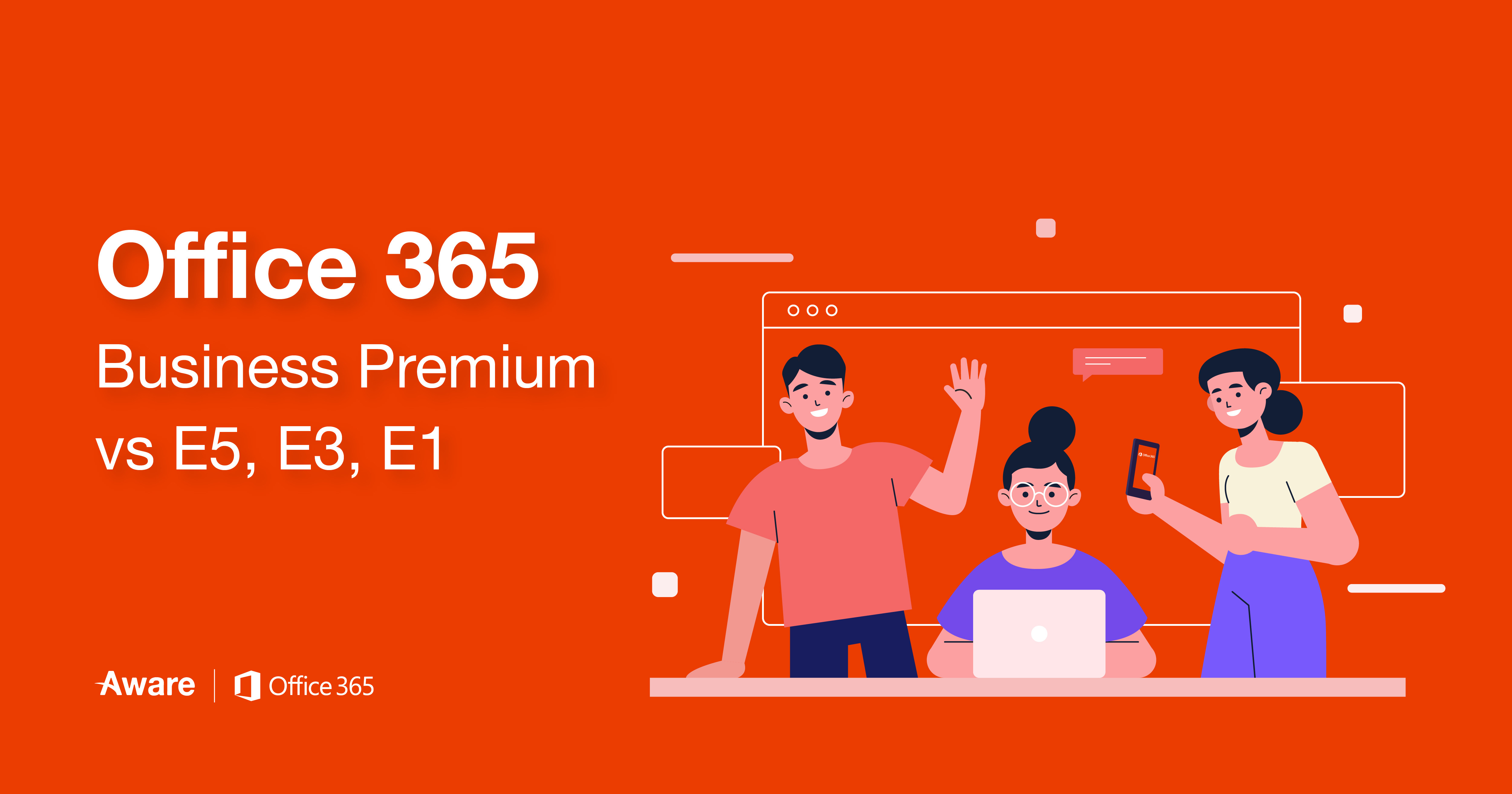 Office 365 Business Premium vs E5, E3, E1
Choosing the correct Office 365 license is the most critical step before migrating from your on-premise Office to The Cloud and O365. With the multiple options available for small businesses AND enterprise businesses, it can't be challenging to navigate the differences.
Enterprise Plan or Business Plan?
Small and Medium-Sized Business Office Solutions are grouped into Office Business Essentials, Business Standard and Business Premium – Premium being the most comprehensive and Essentials being the least.
The Price Difference: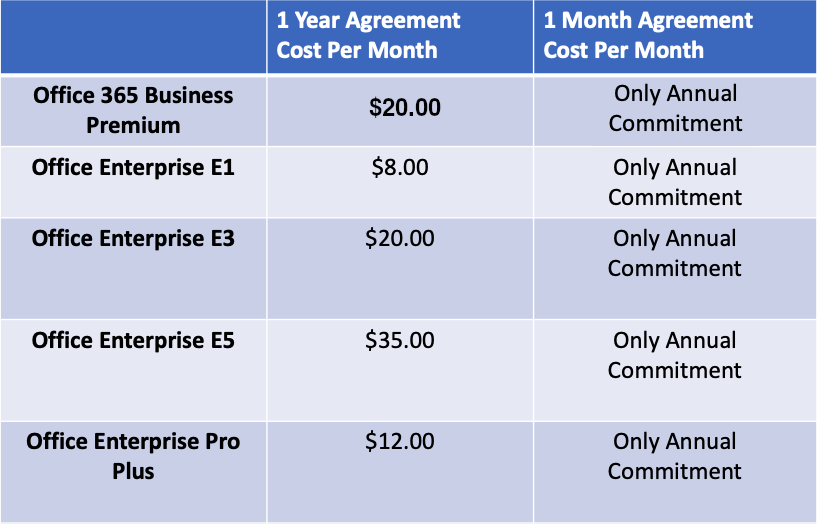 Pricing: E3 and E5 are more expensive than any of the Office Business Plan solutions.

Monthly Agreement: E1, E3, and E5 are annual commitment only.

Employee Count: E1, E3, and E5 allow for the more than 300 employees.
The Feature Differences – Some Enterprise Packages Include:
PowerBI

Delve Analytics

Skype for Business Cloud

Advanced Threat Protection

Advanced Information Protection

Unlimited Archive & Mail Storage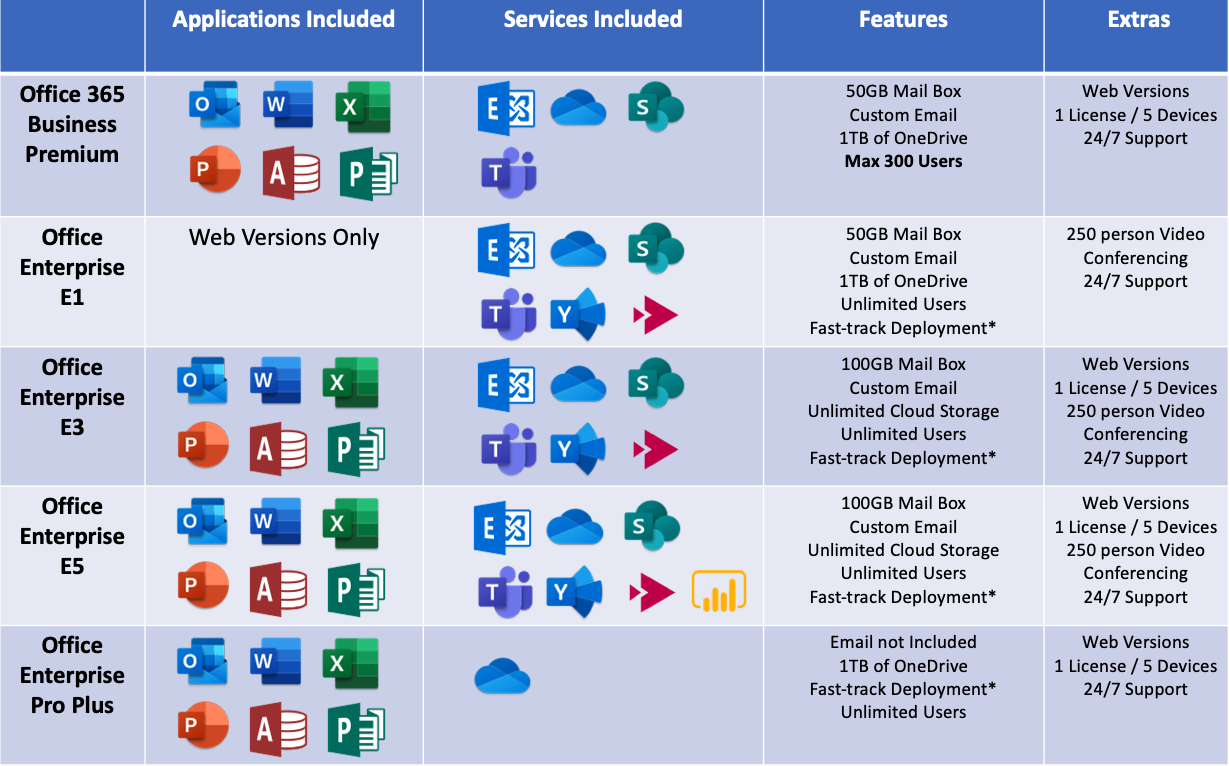 Office 365 Business Premium vs Enterprise E1:
Enterprise E1 is the Essentials versions of the Enterprise Packages. It includes only web versions of Office applications (Word, Excel, PowerPoint, Outlook, Access, Publisher) but contains all the service facilities. You can only access email via online application.

They both possess 50GB Mailboxes, Custom Email addresses, 1TB of OneDrive, 24/7 Support, among other features.

Enterprise E1 is not limited by 300 persons maximum, it does not allow for a monthly contract and is priced at around $8 a month, which cheaper than standard pricing.
Office 365 Business Premium vs Enterprise E3:
Enterprise E3 is around 40% more expensive than Business Premium, with some pretty similar feature sets. It's good to note that If you cross the 300-person maximum for Business Premium, you can top up the excess with Enterprise E3, instead of switching everyone over – a nice little tip to save some money.

Both plans come with a full set of applications, online and offline – and similar sets of services and support.

The core differences are that Enterprise E3 requires an annual commitment and is priced typically at around $20 a month vs the monthly option and $12 price for Business Premium. The other differences come from storage capacity with Business Premium providing "only" a 50GB mailbox and a 1TB OneDrive compared to the 100GB and unlimited space on OneDrive on E3.
Office 365 Business Premium vs Enterprise E5:

E5 is the highest tier that Microsoft offers: It includes all the applications online and off-line and all services included in any of the plans.

E5 also has the additional PowerBI Pro functionality and includes a bunch of security features that are not found on any other plans, advanced security protections, analytical tools, and eDiscovery capability as well as more conferencing and call capabilities.
Office 365 Business Premium vs ProPlus:
Priced almost identically to Business Premium: Pro Plus does not include business email – perfect for companies with their own email application already. ProPlus includes all applications that Business Premium has, but it only has OneDrive as a service.
Office 365 Powerpoint Slide: