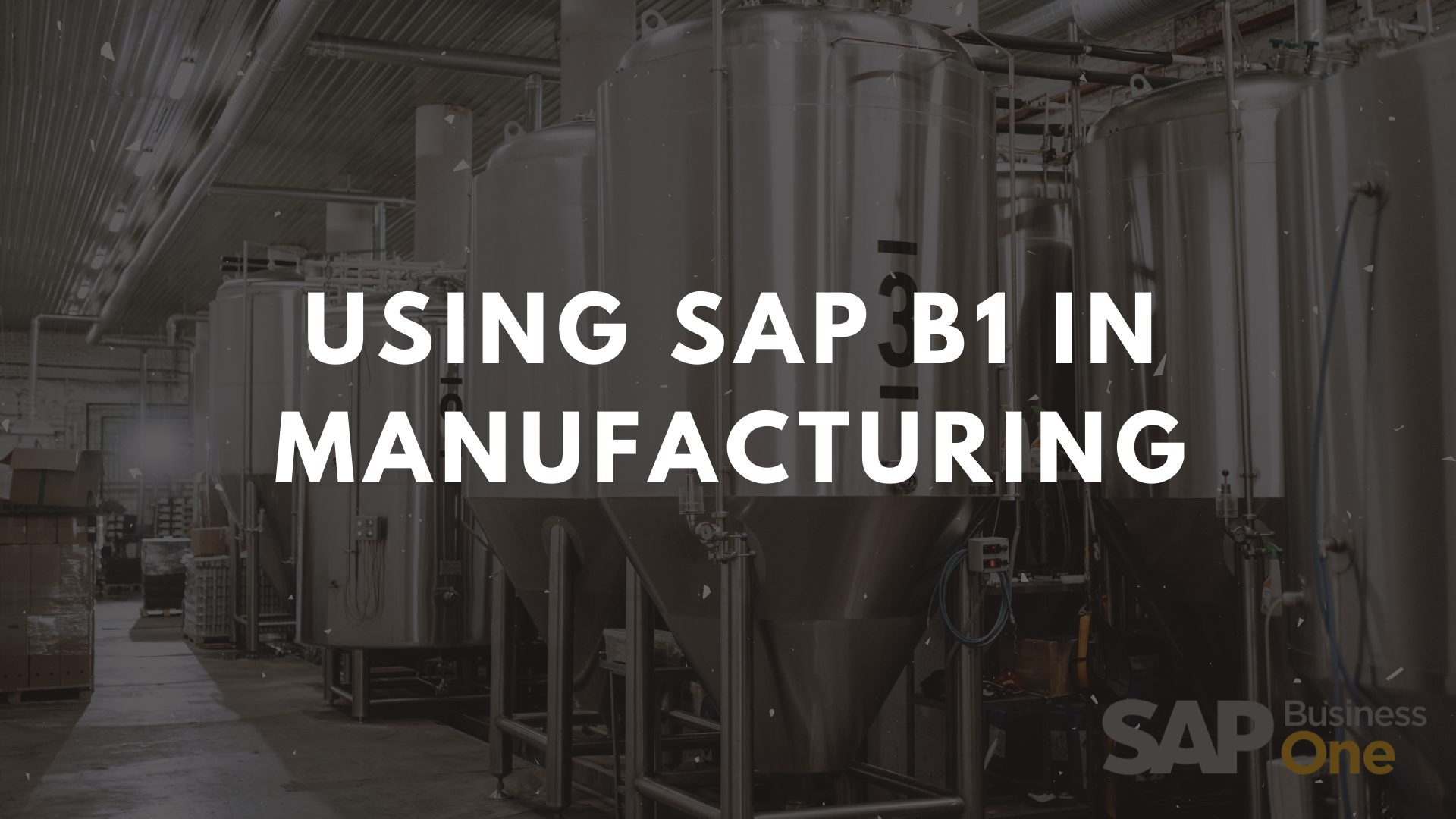 04 Nov

SAP Business One in Manufacturing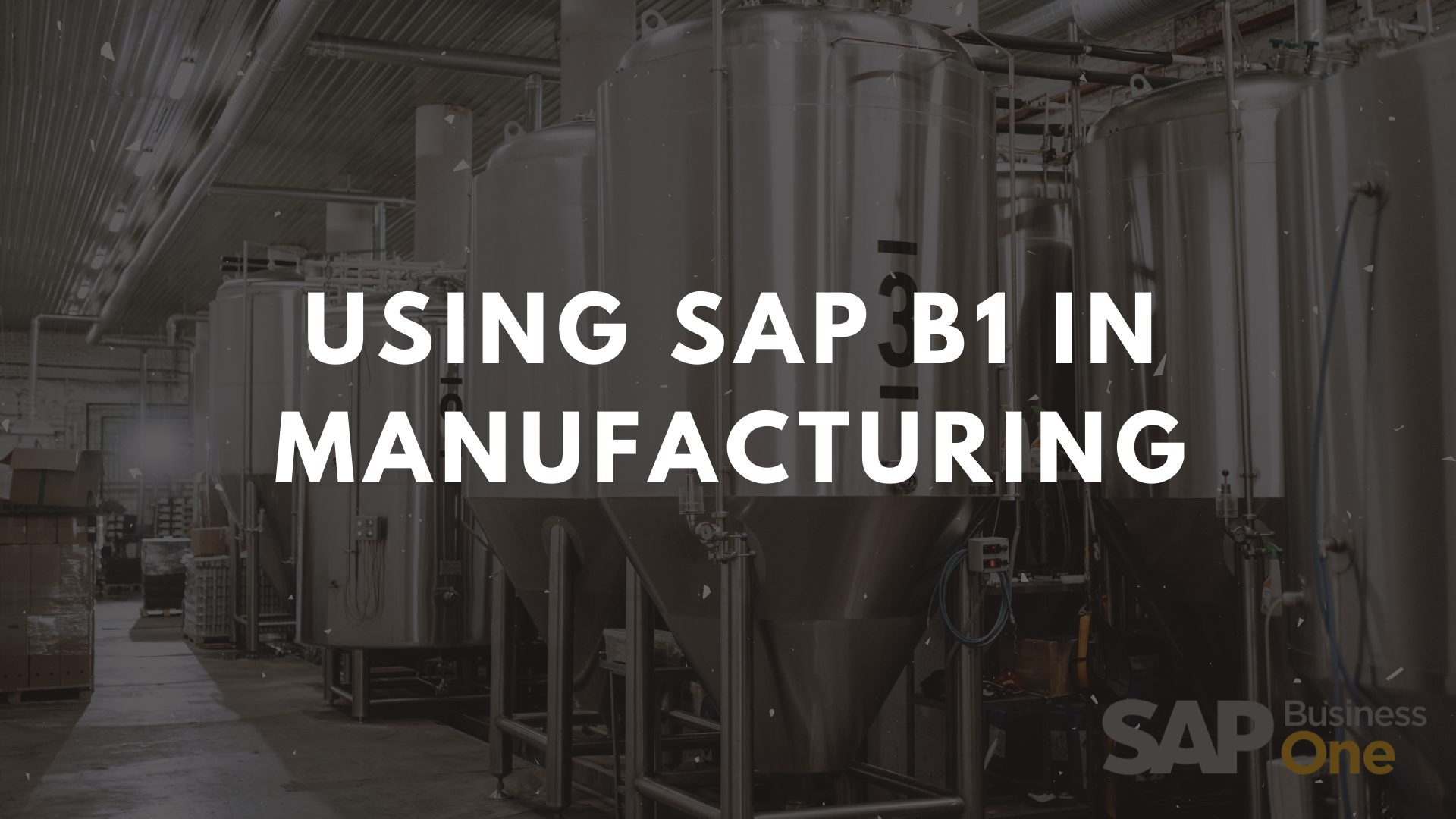 Why You Need SAP B1 in Your Manufacturing Business.
The power of SAP B1 can be leveraged across verticals and industries, however, there are few where the impact is as direct and profound as in the manufacturing industry. If you are a manufacturing business owner or manager and just beginning to learn about the capabilities of SAP Business One you can see our "What is SAP Business One" article here, likewise some of the benefits.
Putting it concisely SAP B1 is the entry point for forward-thinking manufacturers who are embracing the digital evolution – adopting new technologies to stay relevant, innovative, and competitive.
It's not unusual for manufacturers to strive to optimize all parts of their business: operational processes, costing control, efficiency and hopefully increasing their profit – SAP B1 is a tool that can help all businesses generally in these goals.
However, SAP Business One can be developed to help manufacturers tackle their problems more specifically.
SAP Business One helps manufacturing businesses like yours automate the business processes, from sales to finished goods. It manages inventory, controls production, and provides your sales team with insight that enables them to understand orders and demand. You get end-to-end insight into your full business processes.
What kinds of manufacturers can SAP Business One Assist? Well, all of them.

Discrete manufacturing: A manufacturing process where finished products can be counted, touched, or seen. This is a production line based on orders. Discrete manufacturing involves parts like nuts, bolts, brackets, wires, and individual wires. Examples of products that constitute discreet manufacturing are, furniture, toys, and smartphones. SAP B1 can help you understand your full inventory down to parts, so you can know when you are short on parts or when bottle necks are created.

Process manufacturing: A type of manufacturing where a product is made using a formula or recipe commonly to produce bulk quantities. Once the final product is constructed; it cannot be broken down into its basic component parts. Examples of these products would be beverages, cakes, and chemicals. SAP B1 can help you ensure that every single batch is made to the same specifications, you'll never have to stop production to restock any element and you'll gain insight into how your resources are performing and IF they are performing optimally.

Repetitive Manufacturing: Goods are manufactured following production sequences, based on time periods. The type of manufactures is the repetitive production lines like for instance in car production. These high value, high-level manufacturing processes need to work seamlessly – any unplanned downtime can cause significant backlogs that impact your bottom-line.

Traditional manual systems are often inaccurate on the exact number of products you manufacture per day, or how many resources you use and how much time is spent. This means you are often making decisions on inaccurate data.

Customer relationships are often hard to maintain as you sales representatives don't know how much stock they have, or how quickly new units can be manufactured.

Keep up customer satisfaction rates, by driving aggressive delivery times, reduce your lead times and maintain a high quality and consistent level of product.

Slicken you project initiation, improve your planning and allow all your productions to start faster.

Save redundant machine usage and downtime, enhance both your labor and your machine utilization rates.
SAP Business One Module for Manufacturing:
SAP Business One increases visibility into every aspect of manufacturing operation and gives you greater insight to tackling your most frustrating production challenges. SAP Business One provides accurate, real-time information you can really use. Here are some of the out the box modules you can use:
Administration: This facilitates your user and admin settings.
Financials: Containing all elements of your accounting.
CRM: Helping you evaluate your marketing activities and spending.
Opportunities: This contains all your orders and leads opportunities.
Sales – AR: Controlling all your quotes and sales information.
Purchasing – AP: Manage all your purchase orders and goods receipts.
Banking: Contains incoming and outgoing payments and bank reconciliation
Inventory: Manage all the units you buy and sell down to parts.
Resources: Contains resource master data and resource capacity planning
Production: Controls bills of material, production orders, routing, and all manufacturing details.
Service: Manage all your service contracts in one place.
Project Management: Contains projects, project tasks, and issues, and project financial summaries.
Human Resources: Controls employee master data.
Reports: Contains out-of-the-box reports across all modules.
You can get pricing on licenses, implementation, and consultancy from Aware Group on our SAP B1 Solution page.