March 9, 2020
The Best Resume Template for Java Developers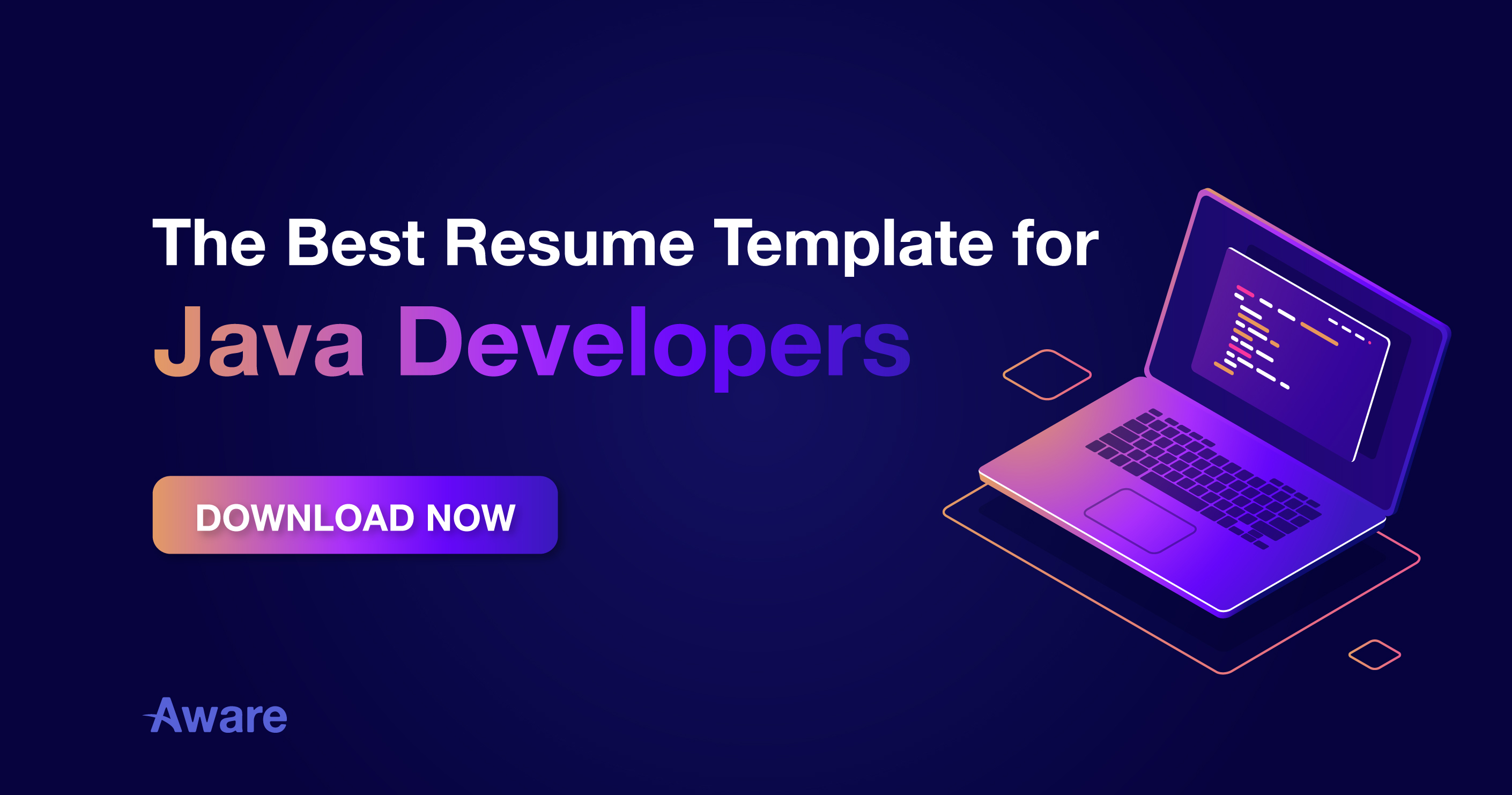 To land the perfect Java job, you need the perfect Java resume. In today's crowded market, it's even more important that you stand out from the competition, with a scintillating resume that shows what a remarkable candidate you are. Everything needs to align; the right content, the perfect style and, of course, the correct template to ensure your resume is flawless.
Whether you're already a Java Developer and on the hunt for new pastures, or an aspiring code whizz looking for their first entry into the workplace, by following the outline below, you will increase your chances of landing that dream job!
Psssst….. Aware is looking for Java candidates, just like you…
Why should you listen to us? Good question! We have over 1000 employees currently at Aware Group, which means we have filtered through A-L-O-T of CVs from technologists of all levels and programming languages. Here are the common characteristics that "wow" us.
We want to know you:
But don't give us everything. Sometimes less is more, what we absolutely need is:
Your name (first name, surname, and nickname)
Your contact number
Your email address… and that's pretty much it.
We don't need to know:
Your zodiac sign
Your religion
Your blood type
Your weight and height
Other family member's names
Remember to keep this information at the top, it makes it easier for us to get in touch with you for that all-important first interview.
Write a short personal profile or summary:
This is often not included by candidates, but it's great for a hiring manager to see. Just a quick 2 – 4 lines outlining what you want to achieve, your goals and aspirations. It's also a great little way to introduce yourself and show relevant job-specific details and soft-skills that put you in the spotlight as the ideal candidate.
     3. Educational Background:
Of course, your academic achievements are super important to almost all job applications you will apply for. When we are recruiting we are really only interested in your educational achievements post-high school: Bachelor's Degree, Master's Degree, and beyond. Bonus points for additional certifications as long as they are relevant and tailored to the position. If you are a self-taught computer whizz, with no formal training – that's a great thing to put in the personal profile/ summary.
Work Experience:
Almost more important than your academic competency is your proveable impact on similar jobs. Keep it concise – and highlight the best parts of your contribution. We want to know the position you held, how long you held it for and your core responsibilities and projects you have worked on. If you have any outstanding achievements from past positions include them here, we'd love to know. We don't need War and Peace rewritten, recruiters handle 100s of emails a week – short and sweet is the key.
If you don't have any work experience, tell us about relevant personal projects you have worked on or even university classes that required you to build an application, test software or write code.
What's really important about the experience, is having done tangible things and made an actionable impact. When you don't have years-upon-years of experience, highlight how you go above and beyond what was expected of you even in entry-level positions.
Highlight Your Technical Competency:
Technical skills are obviously exceptionally important. For a Java developer position, this will include Java Programming, JavaScript, HSP, Angular.JS and any other extension from the Java suite. Equally important is your soft skills though – we love to hear about project management and team-building capabilities. Showing you're more than just a developer but a team player extraordinaire. What we don't need to hear about is your unrelated Soft Skills – Yoga and Classical dance may be good fun, but not integral to Java competencies.
The Resume is an Extention of You:
Stay concise, organized, and specific when writing. Tailor your CV for the job you want to have. In a Java Developer's instance – we're looking for organized and diligent candidates, who keep their CV chronological, short simple explanations and clear definitions. Just like a great coder.
Include references:
You can put "available upon request". If you are a new grad or don't yet have any work experience, please include your professor's contact information.
Sell Yourself
Showcase your extracurricular awards and activities, but only if it relates to the position. We want to hear all about your mathematic achievements, bug contest victories, or hackathon awards. For the resume, don't want to hear about your out-of-work hobbies, instrument playing, and classical dance.
Take your time.
Be thorough, typos are no-nos. Having flawless spelling and grammar means you're thorough and rigorous in your work. We'd recommend tailoring each CV to the job. Trust us, we can tell when someone goes the extra-mile and matches their CV to our positions versus an email blast of a general CV.
Download the perfect Java Resume Template: