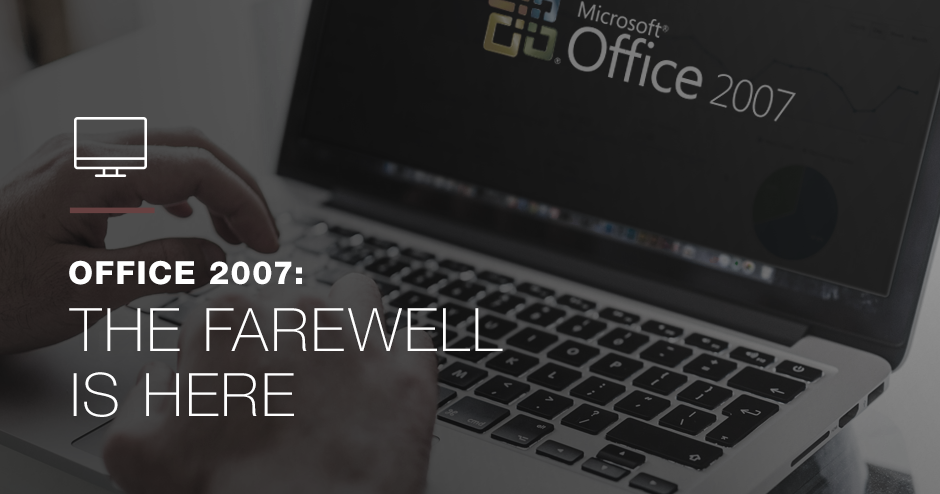 12 Oct

Microsoft Calling Time on Office 2007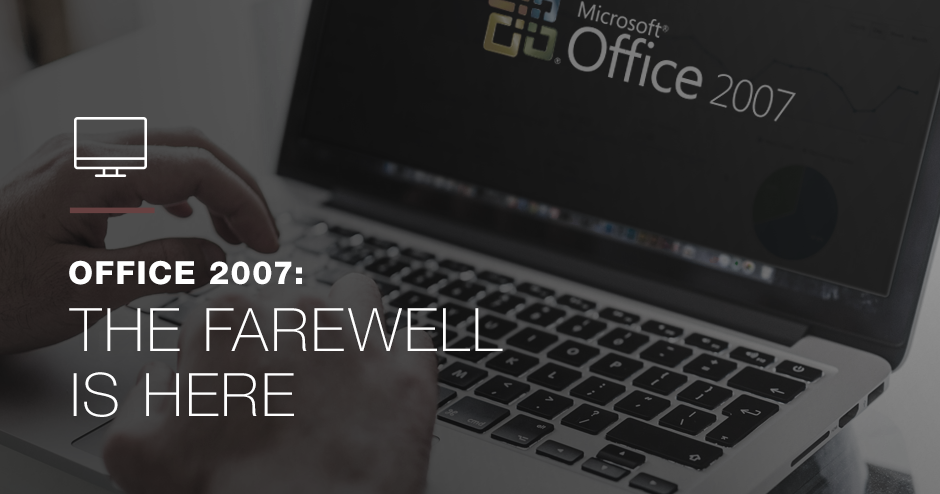 Microsoft Ending Support on Office 2007 & Windows 10
The end is nigh! A decade after its release date, Microsoft have announced the extended support of Office 2007 has finally drawn into a close – there will be no further updates on the platform. With extended support calling curtains, no new features, bug fixes, patches or support will be available going forward.
It's a sad day, Office 2007 has been an institution, a revolutionary product which was the first to feature the now standard Ribbon interface opposed to toolbars; it was also the first version of Office which featured the new version of Office Open XML, docx, pptx and xlsx. At it's peak it was used by 81% of the enterprises surveyed in North America.
However, although a highly successful, popular and pioneering product Office 2007 is not protected from father time.  Like every other product in the Microsoft portfolio, Office 2007 reached its lifecycle – 10 years after its release.
But what does it mean for me?
If you are running Outlook 2007, it will no longer be able to connect to Office 365 mailboxes. You will no longer be able to send and receive emails by the end of October 2017.
You are now vulnerable: no more updates, patches or bug fixes means that you are open to the elements. Worms, viruses and worse can now infect your system. Remember WannaCry and Petya were both exploiting unpatched Microsoft vulnerabilities, so attacks on these are common.
If you have any issues with your Office 2007 programs don't expect any help from Microsoft, from here on out they have wiped their hands clean of any and all support.
It's time to throw away those discs. Welcome to the future: 10 years is a good run, but it's probably time to move on up to a cloud-based office suite. Imagine an office solution that you never have to upgrade again, that's patched, completely mobile and priced to suit your usage.
Upgrade, switch or suffer the consequences: even if you are running an Office 2010 you are technically clear until 2020, although certain service packs are no longer supported. The caveat is that on older suites they are only going to make critical changes and not fix small bugs.
Why Office 365?
Office 365 is in many ways superior to its outdated predecessors Office 2007 and 2010; here are some of the features that will make your team more productive with Office 365:
You can access all the applications online. From any device.

Updates are free. Office 365 says goodbye to the slow update process at each workstation.

The cloud keeps your system up to date on autopilot so you'll always have the latest version.

Office 365 is designed for fast-paced change. Scale up or down with ease.

You get OneDrive for cloud storage. No more sharing documents through email or over an intranet.OneDrive makes collaboration fast and easy by allowing your team to access, edit and share documents across Windows PC, Mac, iPad, Windows tablet and smartphone.
If you would like to upgrade your Office Suite, speak to Aware today.