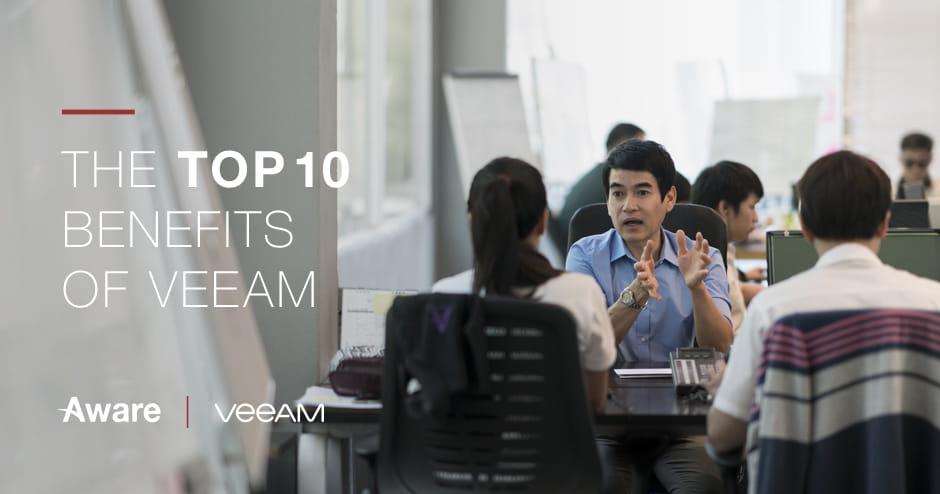 13 Mar

Top 10 Benefits of Veeam
Why Veeam? Why Now?
Lightning-paced technological innovation waits for no man or business. The move towards virtualized environments is relentless and if you are not catching this wave, you will be left in the dust. Veeam solutions are developed for the present and future, leveraging the technology of virtual environments to reduce the cost of storage and increase the value of backups.
To put it simply, Veeam is built for the modern, virtualized world. Legacy backup tools were made for the physical world, that have now been retrofitted reactively for virtualization which constrains its flexibility.
Here is how it can support you, and your business:
(1) Save Money:
Probably the most common reason for switching to Veeam software is the direct cost savings. Businesses who switch to Veeam saved an average of $50,000 a year while improving their backup performance and downtime. Veeam has a three-pronged attack on resource efficiency by delivery availability, reducing reactive backup and replication activities and allowing you to focus on business growth. Two out of three customers now spend 35% less time managing their infrastructure and environments, so they can focus their time on where it matters.
(2) Agentless:
No agent equals cost savings in hardware and administration. Instead of installing a backup agent on each of your virtual machines, Veeam reduces costs through less software licensing, bandwidth use and component acquisition.
It also simplifies administration, by having a centralized managed approach that allows the administrator to control every VM from a central point. By leveraging agent-based backup across your VMs your business is less flexible, less scalable and less agile – all essential ingredients to the modern successful business.
(3) Smooth Integration
While physical backup tools often take months to provide support for new VMware and Hyper-V releases. As Veeam is specifically built for virtualization it is quick to action and works seamlessly with your hypervisor supporting them both on a single console and infrastructure. You can even move licenses between VMware and Hyper-V and not change your agreement.
(4) Instant File Recovery
Instant file recovery through image-based backups can be problematic. To tackle this problem head-on Veeam developed IFLR or Instant File Recovery which enabled admins to restore guest files from a compressed and deduplicated backup without having to restore an entire machine.
(5) Instant VM Recovery
Utilizing patented breakthrough technology Veeam eliminates the need to extract the backup and copy it – you simply start the virtual machine from backup instantly. If for whatever reason, your VM goes down you can restart it again on any host. Depending on the method, full recovery can happen in the background with no impact on users or your business.
(6) Off-site Backups Made Easy
When it comes to protecting your data, a common issue is maintaining data for your disaster recovery site. To help mitigate this impact, Veeam offers flexibility through built-in WAN Acceleration, with this technology Veeam can decide which data blocks are there and which to send in backup. Veeam Acceleration includes global caching, variable length data fingerprinting, traffic compression and is 50x faster than a standard file copy.
(7) Always Reliable
No more sleepless nights with automated backup and replica testing on 100% of all your workloads. Aware helps 91% of its users meet their recovery time and point objects as well as their SLAs compared to only 69% of previous legacy providers.
(8) Built for the virtual world:
Veeam does not just tolerate virtual environments it embraces it. The navigation is easy an intuitive versus physical backup tools. It's almost as if Veeam was designed for the virtualisation….
(9) Veeam is the Future:
Growing at 4000 new customers a month and recognized by Forbes Cloud 100 since its inception, Veeam is regarded as a pioneer in the backup sector. Over 50,000 companies have switched to Veeam in the past 12 months, simply because they are a leader with a proven history of delivering on innovation and the capabilities companies need for digital transformation.
(10) And Veeam is Super Easy….
You'd think with all this endless technology it must be complicated, time-consuming and expensive to install? After all, compared to a legacy backup system that requires weeks to deploy and that's before the expensive consultants. With Veeams backup solution you can be installed, configured and complete a full backup of 25 VMs within 60 minutes.